You've opted for a wood heating system that combines economy, ecology and performance. But the question remains: which fuel (and therefore which stove) best meets your heating needs? ». If you can't decide between logs and pellets, here's a comparison of the two stove types to help you choose what's best for you.
Pellets, offering performance and simplicity
Autonomy. With their large capacity tank, pellet stoves do not require a regular supply. They're also programmable and some models even work by remote control, such as the "Cedrus" pellet stove by Invicta.
Constant warmth. Easy to use, they produce a soft and consistent heat over long periods of time without any intervention needed on your part to maintain the flame. Pellet stove technology combines efficiency and practical benefits, giving you freedom and flexibility.
Fuel quality. In addition, pellets made of sawdust residue and wood chips provide excellent fuel. Thanks to their high energy performance, they offer efficient and pleasant heating.
Yield and higher prices. By reaching 80 to over 90% efficiency, pellet stoves generally exceed the performance of traditional log systems. Their autonomy is also superior. Some Invicta models, whose reserve have a capacity of 22 kg, let you enjoy the heat for up to 36 hours. The purchase price of the pellet stove and pellets remains higher.
But beware. If you're leaning towards a pellet stove, you'll want to verify that there's a fuel supplier in your area before making any purchases.
Log stoves, offering savings and aesthetics
Ambiance. True family treasures, log stoves are wildly popular for the sublime fire show they offer your eyes. A contemporary object of design and delight, they go with any type of interior and come in many forms for an ever-warmer atmosphere.
Competitive prices. Log stoves use less expensive fuel because it's more widely available than pellets. In terms of cost per use, they're therefore positioned as the most competitive in the market. According to the requirements of the "Green Flame" label, log stoves guarantee up to 80% energy efficiency. Note that these devices deliver heat quickly and do not require electricity to operate.
Autonomy. Unlike pellet stoves, their autonomy is limited to a few hours without human intervention. There's a prolonged combustion mode to restart the stove easily after several hours (ex. : presence of embers in the morning after a night without replenishing).
Authenticity. If you're looking for an authentic and intense experience, the log stove is for you. You'll just have to revive the flame regularly!
But beware. Before you install a stove, don't forget to arrange space to store your wood away from moisture.
In summary…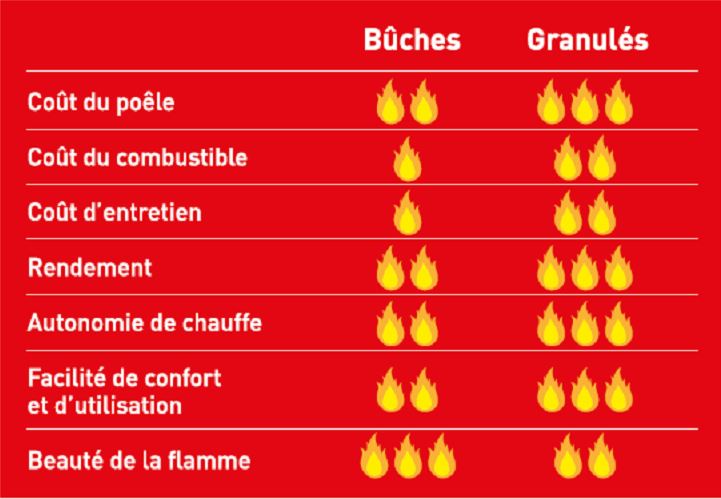 Invicta offers a solution for the undecided!
Become the master of fire by opting for both fuels! Invicta offers a range of products that combines the advantages of both fuels: mixed stoves (MIX and AKIMIX). With a range of 12 to 18 hours in pellets and a hearth that can accommodate logs up to 38 cm, you'll be free to choose between automated heating modes and the user-friendliness of a wood fire.