700 GA Air-tight Inset Stove
The front door of the Foyer 700 Air Control incorporates a discreet frame to enhance the fire experience and facilitate installation into a framework. Télématin Report: Renovating Your Fireplace
Air control
Central combustion gearbox with a single control that offers: * simple, balanced management of all of the distributed air, * better control of flame height (min, normal, and max), * control over wood consumption, * cleaner, more efficient combustion, * a secondary air intake for more reliable protection of the glass * total shutdown of the air intake in the event of a prolonged shutdown of the unit.
Airtight unit RT2012 / RE2020 compatible
Ideal for low-energy consumption construction (BBC), RT2012 or RE2020. The unit is equipped with a central fresh air input on a connection nozzle:
* no air intake in the room,
* direct connection possible to crawl space or external air intake.
Continuous and intermittent
The unit can operate in intermittent or continuous mode. Intermittent mode requires frequent addition of new wood. It is particularly high-performing and respectful of the environment. Continuous mode with low flame, enables a minimum operating period of 3 hours without intervention.
Decorative fireplace
A line of decorative hearths intended to be mounted in a casing. Only the front door with its clever and original design remains visible, providing a subdued, elegant surrounding in which to view the flames.
Optional support stand
Stainless-steel support stand available as an option to make it easier to install a decorative hearth in its casing. It can be adapted to all models of decorative hearth, ref. 6965-80/
Origine France Garantie (Made in France Guarantee)
The Origine France Garantie is the only certification that certifies a product was manufactured in France. This labeling is validated by an independent organization, after an audit. (Bureau Veritas No.7208672). OFG products are manufactured in France at Invicta Group manufacturing sites.
Post-combustion system
Injection of pre-heated air into the combustion chamber The supplementary air intake in the back enables hydrocarbons to be destroyed at a high temperature. Complete combustion reduces pollution.
Wide angle outer glass
Screen-printed glass placed on the outside of the door provides a modern style with a good view of the flames.
Optimal heat output (kW)
9 kW
Heat output adjustment (kW)
6 to 13.5 kW
Heating volume (m³)
125 to 275 m³
Heating surface (m²)
50 to 110 m²
Flamme verte (environmental label)
7 stars
Seasonal efficiency - ETAS
66
Energy Efficiency Index (EEI)
100
Flue gas mass flow (g/s)
9,4
Flue gas temperature (°C)
312
Combustible
Logs 25, Logs 33, Logs 50 cm
Maximum log length (horizontally)
54 cm
Flue diameter (mm)
200, 200 mm
Direct Air-supply (mm)
100 mm
Dimensions - H * W * D (mm)
702 x 713 x 477
Category of the feeder (opening, inserts)
700
Warranty
2 years + extension 3 years*, 2 years + extension 3 years*
Option (accessories)
Support stand
Everything about this hearth is big: oversized format, updated design, full-view glass, and improved performance.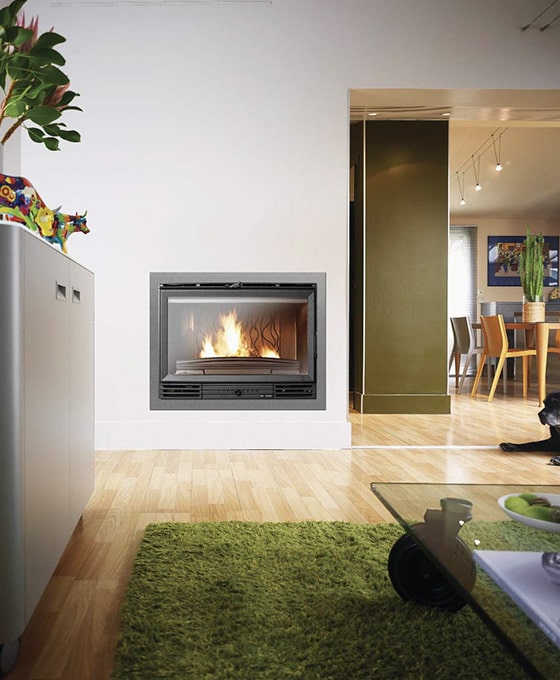 Your interior design is unique. We are committed to finding you the the heating solutions best suited to your home. Let us be your guide.