Metti 8 Pellet Cassette Stove
Program and control your thermal comfort with this high-performance pellet insert. Its 15 kg tank ensures your peace of mind for many hours.
1-year extended warranty
For pellet appliances, the 1-year warranty extension is conditional on the is conditional on the product being registered online.
Hourly schedule
*DAY: The unit has 2 daily programs so it can turn on and off twice per day
*WEEK: the unit has 4 weekly programs so that you can program it to turn on and off 4 times per day, every day of the week.
*WEEKEND: the unit has 2 programs for the weekend (Saturday, Sunday), which enable it to turn on and off twice per day
Optional external thermostat control (not included)
Air distribution connection lines are available as an option. Reference P690080: kit 2 connection lines & screws.
Regulate the flame or room temperature
*Adjust operating power: 5 pre-programmed power settings managed automatically.
*Adjust the preset temperature: you choose the desired ambiant temperature in the room. It is measured using a wire probe. The wood pellet stove adjusts its power to reach and maintain the requested value.
Standby
Standby is a backup feature of the device. The unit turns off if the room temperature is 3°C higher than the temperature set for over 60 seconds. The unit turns on again when the room temperature drops 1°C below the temperature set.
Ventilator for hot air output
A tangential forced convection ventilator is used. It distributes the hot air inside the room.
Optimal heat output (kW)
8,5
Heat output adjustment (kW)
4,1 - 8,5
Heating volume (m³)
90 - 250
Heating surface (m²)
36 - 100
Useful efficiency (%)
91 - 92,3
Seasonal efficiency - ETAS
80
Energy Efficiency Index (EEI)
121
Flue gas mass flow (g/s)
4 - 6,1
Flue gas temperature (°C)
151
Natural wood pellets
length: 30 mm diameter: 6 mm
Hopper capacity (kg)
15 kg
Consumption (kg/h)
0,92 - 1,94
Flue exit
Top with integrated T connection
Tension (V) / frequency (Hertz)
230 V / 50 Hertz
Dimensions - H * W * D (mm)
560 x 700 x 565
Standard
EN 14785 compliant
Warranty
2 years + extension 1 year*
Option (accessories)
Frame grid (P697003), Loading Hopper Top (P697004), Support chair (P697002)
The Drosera is distinguished by the sleek look of its red or cream metal housing. It…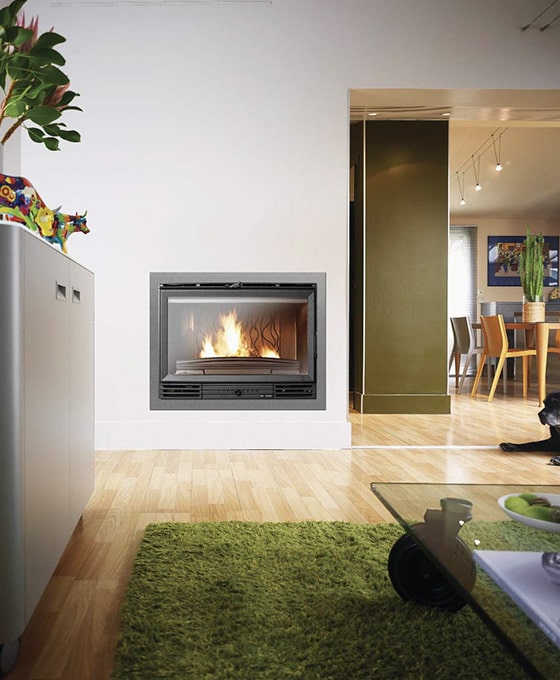 Your interior design is unique. We are committed to finding you the the heating solutions best suited to your home. Let us be your guide.